Internet and Telephone Upgrade
Jagmeet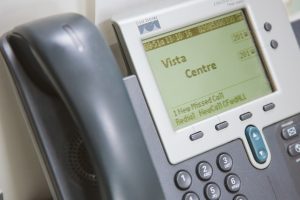 As part of our commitment to providing our tenants with the most reliable internet and telephone services, over the past year, we've been carrying out hardware upgrades throughout Vista Centre. Our aim is to bring the premises in line with industry standards. Updates include:
1)         Multiple Dedicated Fibre Internet Connections: We house multiple 100Mbps (uncontended, Upload and Download) internet pipes that are delivered over dedicated fibre connections to the building. These services are constantly monitored, both by our in-house IT team as well as our services providers – service outages are identified and resolved proactively before tenant's report connectivity issues.
2)         Monitored Bandwidth services: Our network now enables us to monitor bandwidth usage across the premises, as well as by our tenants. This gives us the capability to actively monitor bandwidth usage in the building, ensuring we deliver a consistently reliable internet experience to our tenants.
3)         Reliable and feature rich telephony services: We now boast a highly resilient telephony platform, housed in London's Telehouse West data centre. Telehouse West is the data centre of choice for some of UK's major telecoms and network service providers. Moving our telephony platform into the cloud has enabled us to build resiliency into our telephony services, meaning we can now deliver uninterrupted telephone services. Our hosted telephony platform caters for a wave of new features that were unavailable on our legacy platform – these include:
Call history and logs per extension
Call recording
Call Screening
Conference Bridge facilities
Voicemail to Email
Automated Attendant or IVR
Call Queuing
Fax to Email
Call Centre